Pre Insulated Glue : 
Hawa Glue
 is used in PIR,PU&Phenolic foams panel for pre-insulated air duct. Hawa glue can also be used for most of porous andnon-porous Surfaces.
   coverage       : the wet coverage of Hawa glue is 3 to 5m2/kg subjected to the applied film thickness. The recommended wet film thickness is 100 to 130 mic. To get proper coverage always keep the container's spout closed to prevent the solvent evaporation.
   Packing         : Hawa glue is available in 15 liters spouted Metal pail.
   Advantages :
­ Excellent bonding with PIR v/s PIR , PU v/s PU & PH v/s PH.
­ Excellent film forming nature.
­ Water resistant.
­ Excellent heat resistance.
­ Chemical resistance.
­ Suitable to middle east climatic conditions.
­ Very easy to apply.
­ Economical.
Liner Glue 81-10 : 
Hawa Liner Glue  81–10 can be used in application where fibrous glass wool or similar insulation are bonded to the interior or exterior of metal duct.
   Types             : Hawa Coat 30-36  , Hawa Coat 30-36AF , Hawa Coat Vapor Barrier 30-80(external usage) .
   Advantages :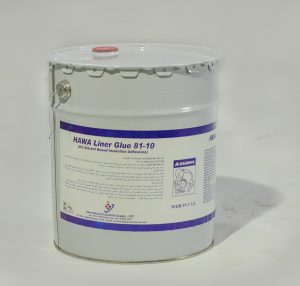 Excellent bonding to most of porous and non-porous surfaces.
Water resistant.
Chemical resistant.
Suitable to Middle East climatic conditions.
Very easy to apply.
Economical.
Canvas Coat 30-36 :
Hawa Coat 30-36 
is a tough and flexible adhesive and Sealant, forming a durable seal against air leakage. Due to Its excellent water, U.V. and abrasion- resistance it can be Used in outdoors as well as indoors in thermal insulation System on metal duct.
   Advantages :
Good adhesion and high strength to most thermal insulating materials.
Resistant against water/ cracks  / abrasion and fire .
Non-toxic & non- flammable.
UV resistance.
Chemical resistance.
Antibacterial.
Suitable to middle east climatic conditions.
High temperature resistance.
Duct Sealant : 
Hawa Acrylic Sealant is a high performance sealant designed for used in heating and air conditioning system
· Sealing duct work/seam: Hawa Sealant provides excellent strength, flexibility and resistance to heat and cold, forming a seal against air leakage. Hawa Sealant cures to tough sealant and remains flexible at low and high temperature.
How to use Hawa Sealant:  should only be used where slight joint movement is anticipated. In extremely deep joints, use foam joint filter. Tooling is recommended and, if possible, should be completed in one continuous stroke. Tool joints within ten minutes of application. If masking tape has been used to obtain a cleaner joint it should be removed before the tack -free skin forms.