ETD is one of the lead supplier for Pre-Insulated sheet in qatar and has supplied many big project ,having very good stock of several brand of Pre-Insulated sheet (PIR&Phenolic) and accessories in its warehouses .
Description : 
PIR : Sandwich panels made of an insulating component in rigid polyurethane foam and laminated on both sides with centesimal aluminium foil ,shall comprise a 45-48 kg/m3 nominal density .
Phenolic Pre Insulated Panels :  shall comprise a 65-70 kg/m3 nominal density CFC/HCFC free rigid Phenolic insulation core with zero Ozone Depletion Potential (ODP), autohesively bonded on both sides to a 80 micron low vapour permeability aluminum foil facing.
Brand : 
  ETD supplying different brand of PIR and Phenolic
Alpha Phenolic                                                                  Alpha  PIR                                           Alpha UL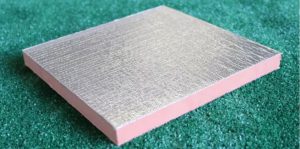 Kingspan Pal Phenolic                                                      KingSpan Pal PIR